BEGINNER TAE KWON DO CLASSES ENROLLING NOW
If you want to achieve all of your health goals, Lone Star Black Belt Academy's Tae Kwon Do program is the right place for you! In these classes you will get a great cardio workout and learn self defense techniques that will keep you and your family safe.
With nothing but your hands and feet as your weapons, you will learn one of the most effective defensive Martial Arts programs in the world. On top of that, you will look and feel your best, thanks to this stress-busting course!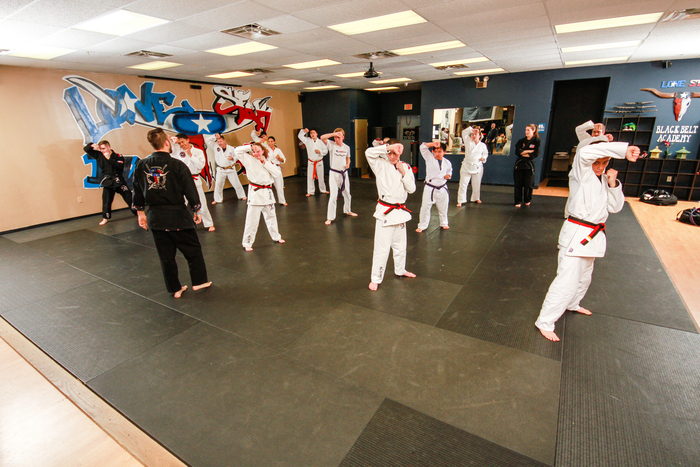 TRANSFORM YOURSELF MENTALLY AND PHYSICALLY IN WATAUGA!
On top of decreasing stress and learning a traditional form of Martial Arts, we have 5 good reasons why every adult should be enrolled in Tae Kwon Do:
Tae Kwon Do helps you lose weight:
You can expect major changes in your body with our classes. You'll burn lots of calories, build muscle, and in general, get your metabolism kicking into high gear. Our work-outs are a great way to help you shed those unwanted pounds. Additionally, you'll reshape your body. Your arms, legs, and waistline are going to become more toned.
Improved Health:
Our Tae Kwon Do classes will dramatically improve your cardiovascular health. Your resting heart rate will come down and your ability to maintain an increased heart rate will increase. You'll breathe better, sleep better and even feel an increase in energy and effectiveness all day long.
Positive Attitude:
Our programs are designed to be positive and inspirational. We'll keep you motivated and thinking about progress and goals. Our staff and students are all success oriented and focused on looking for the good in all situations.
Self-Confidence:
It's true, adults who take Tae Kwon Do develop better self-confidence. You'll be encouraged to take chances, to push your self further than you ever thought possible. The success you experience through our program teaches you that you can be successful at anything you truly believe you can. You're improved self-confidence will help you deal with all of life's challenges with a more positive, "Yes, I Can!" attitude.
Self-Defense:
Tae Kwon Do teaches two forms of self-defense. One is physical, you will improve your strength, flexibility and overall health. Additionally, you will learn to strike with tremendous power and effectiveness. Hopefully, you'll never need to fight. but should the occasion arise, shouldn't everyone know how to protect themselves? The second form of self defense Tae Kwon Do teaches is internal. Our students learn to spot danger and avoid dangerous people, places and activities. Tae Kwon Do can help you avoid the need for a physical confrontation. This second form of self-defense is perhaps the most valuable of the two.
GIVE YOURSELF AN UPGRADE TODAY!
Just fill out the short form on the side of this page to get all the information you need to start your road to fitness and self confidence in the Tae Kwon Do classes at Lone Star Black Belt Academy! We offer a FREE trial class and a FREE uniform when you sign up! What are you waiting for? Contact us today!