Learn Jiu Jitsu and Get In Amazing Shape! June Specials!
Do you want to put yourself on the fast track to ultimate fitness, all while learning to defend yourself with the skills of a seasoned martial arts master? When you take the Brazilian Jiu Jitsu classes at Lone Star Black Belt Academy, you can expect all that and more!
Jiu Jitsu is known as the most reliable system for a smaller person to defeat a larger, more athletic opponent. The techniques of Jiu Jitsu are based on precise timing and effective use of leverage so that virtually anyone can do it, man or woman, regardless of their size or athletic ability.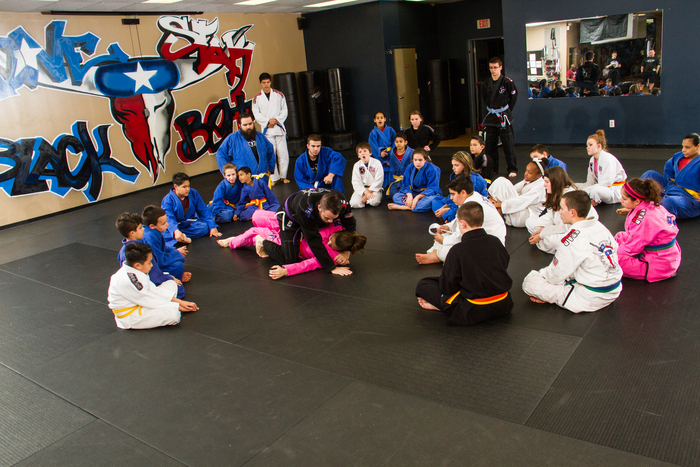 Your Search For World-Class Fitness Ends Here!
Lone Star Black Belt Academy's Brazilian Jiu Jitsu program teaches the basic principles of effective fighting to individuals like you. And as you master the grappling, ground fighting and submission moves that you have made Jiu Jitsu one of the leading martial arts programs today, you'll be getting a whole host of benefits. Just take a look at what Brazilian Jiu Jitsu has to offer:
Learn effective and practical self-defense to protect you and your family
Any unwanted weight will effortlessly fall off and easily stay off
You'll develop eye-catching, chiseled muscles
Your day-to-day stress levels will plummet
You'll experience unstoppable energy and stamina
You'll gain the ability to predict your attacker's next move
Your ability to concentrate and focus will surprise you
To Be Ready You Must Get Ready!
Here's what you can expect when you take the Brazilian Jiu Jitsu classes in Watauga at Lone Star Black Belt Academy:
Step 1: Learn the Techniques
Each lesson is taught using methods so that no previous experience is required to participate in any of the lessons. As a result, you can complete them in any order.
Step 2: Develop Your Reflexes
We teach on a rotating curriculum so this way you will have multiple repetitions on key moves. When faced in a self-defense situation you must be able to rely upon reflexes so you can act without thinking. A self defense situation could be over by the time you work out the memory of the move in your head.
Step 3: Earn Your Blue Belt
Once you complete each of the lessons and you master the techniques in the context, you will be considered for promotion to Blue Belt!
Step 4: Mastering Core Cycle
Beyond Blue Belt, the Lone Star Black Belt Academy has divided all techniques that must be mastered before one is considered for promotion to Black Belt into seven Positional Cycles collectively known as the Core Cycle (Mount, Guard, Side Mount, Half Guard, Back Mount, Leg Locks and Standing). Core Cycle students study each cycle for 12-16 weeks before moving on to the next cycle. By maintaining a disciplined training regimen, and demonstrating their precise understanding and increased mastery of the techniques, each advanced student qualifies to be promoted in the following order: Blue Belt, Purple Belt, Brown Belt and Black Belt.
LEARN ULTIMATE FITNESS & SELF DEFENSE WITH BRAZILIAN JIU JITSU CLASSES IN WATAUGA!
Fill out the short form on the side of this page to request more information about Lone Star Black Belt Academy's Brazilian Jiu Jitsu classes and get fit while learning to defend yourself. We offer a FREE trial class and a FREE uniform when you sign up! Take advantage of this outstanding offer today!